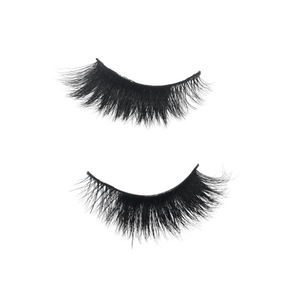 These sassy little A line lashes have a winged flare that are great for daytime and night time wear. They bring out your best assets with out being to dramatic. Our brides love how full and beautiful Billionairess is and  the level of elegance they bring to their big day. You'll be happy you gave them a try. 
Easy to apply and remove.
Soft and comfortable to wear.
Use an eyelash adhesive to apply.
Trim to fit eyelash to fit the the contour length of your eyes. Use the curve of your natural lash to find a suitable length.
Very durable and with gentle care reusable.
Package includes 1 pair ( 2 pieces of mink lashes) of 100% premium mink lash strip in case w/ lash brush. Eyelash adhesive not included.