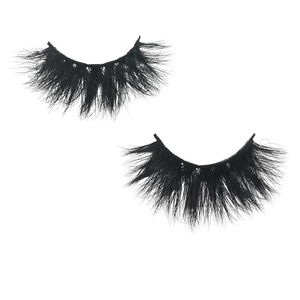 Longer is always better. Grab you a pair of our dramatic 25 mm fluffy long wispy lashes. These are makeup gurus go to lash style for full glam looks. 
Easy to apply and remove.
Soft and comfortable to wear.
Use an eyelash adhesive to apply.
Trim to fit eyelash to fit the the contour length of your eyes. Use the curve of your natural lash to find a suitable length.
Very durable and with gentle care reusable.
Package includes 1 pair ( 2 pieces of mink lashes) of 100% premium mink lash strip in case w/ lash brush. Eyelash adhesive not included.